It's Independence Day! (For Texans)
It's Independence Day! (For Texans)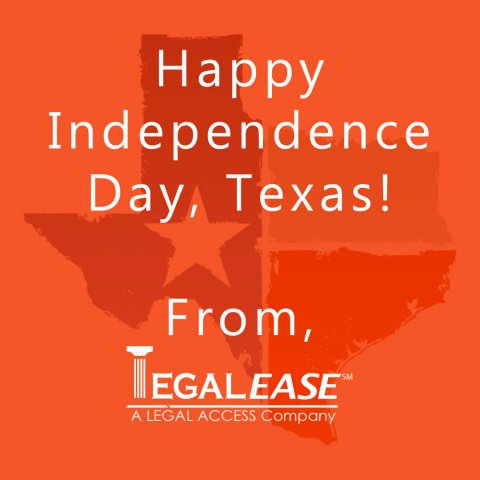 March 2nd means it's Texas Independence Day! In 1836, Texas declared independence from Mexico.1 Ever heard of the "Six Flags Over Texas"? The Republic of Texas marks the 4th flag.2
LegalEASE, a LEGAL ACCESS Company, relocated to Houston, Texas over 30 years ago in 1987.
We hope you get a chance to celebrate and enjoy your weekend with some Tex-Mex and BBQ and even spend some time at the Houston Rodeo!
Footnotes
"Texas declares independence," This Day in History, http://www.history.com/this-day-in-history/texas-declares-independence.
"Six Flags Over Texas," San Jacinto Museum of History, http://www.sanjacinto-museum.org/Monument/Six_Flags_Over_Texas/.
Disclaimer
© 2018 Legal Access Plans, L.L.C. All rights reserved. Legal Access, LegalEASE and the circle mark are marks of Legal Access Plans. Content is property of or licensed to Legal Access Plans, L.L.C. Content on this site is for general information purposes, should not be relied upon as legal advice, does not constitute a contract or an attorney client relationship.