LegalEASE, a LEGAL ACCESS Company
Member Services Hours: 7:00 AM central to 7:30 PM central, Monday to Friday.

 
Since 1971, LegalEASE, a LEGAL ACCESS Company has grown from a group of five attorneys providing services to a modest amount of companies in a metropolitan area to a network of over 18,000 attorney providers assisting more than 12.8 million employees across several market segments and multiple products. LegalEASE provides assistance to employee members over half a million times each year throughout the United States and the world.
Meet Patricia and Michael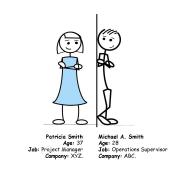 Everyone has the need for an attorney periodically throughout their lifetime. Find out why the Legal Access Method helps the end user and their employer. 
Becoming a Member

Becoming a legal plan member has many benefits, with the biggest being peace of mind. If you are considering enrolling in one of our legal plans, click here to learn the benefits.