LegalEASE, a LEGAL ACCESS Company
Member Services Hours: 7:00 AM central to 7:30 PM central time, Monday to Friday.


In an effort to do our part in social distancing, we have movied 100% of our workforce to remote wroking. During this time, you may experince slightly longer than normal service or response times. We are here to help and appreciate your patience.
Department Status:
100%
of our departments and teams are functional and operating.
Member Services Department
Provider Relations Department
Claims Department
Administration Department
IT Department
Marketing & Communication Department
AP and AR Teams
Sales Department
Since 1971, LegalEASE, a LEGAL ACCESS Company has grown from a group of five attorneys providing services to a modest amount of companies in a metropolitan area to a network of over 20,300 attorney providers assisting more than 12.8 million employees across several market segments and multiple products. LegalEASE is an employee benefits company that provides assistance to employee members millions of times each year throughout the United States of America.
Meet Patricia and Michael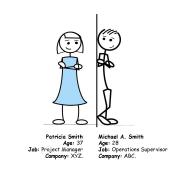 Everyone has the need for an attorney periodically throughout their lifetime. Find out why the Legal Access Method helps the end user and their employer. 
Becoming a Member

Becoming a legal plan member has many benefits, with the biggest being peace of mind. If you are considering enrolling in one of our legal plans, click here to learn the benefits.