LegalEASE, a LEGAL ACCESS Company
We're Changing the Game
LegalEASE, a Legal Access Company, is an employee benefits company that provides an easy-to-use legal service platform for your employees. Since 1971, LegalEASE continues to offer robust Legal Insurance Plans to employers who see the benefit in providing this valuable service to their employees. LegalEASE plans cover employees' legal needs, offer experienced attorneys close-by to choose from, and help them connect quickly to the right provider. Featuring the largest and most developed Plan Attorney Network (20,560+ and strictest credentialling standards in industry), and our unique Matching and Compatibility infrastructure, LegalEASE provides high-touch professional services that have and will continue to save your company and employees money, time, and unnecessary stress.
We're here to assist when life's expected and unexpected legal events occur. The American legal system is complicated. Thousands of new laws and procedures are drafted annually, and many affect the workforce, including:
Mortgage companies that sell trust deeds and force foreclosures
Student loans which sell loan paper and lose track of borrowers
Relatives who die without proper estate planning and end up leaving their assets to the state, instead of their heirs
Home construction defects increase and builders who refuse to fix these problems
According to the American Bar Association, more than 70 percent of U.S. households will have the need for a lawyer in the next 12 months. That same study found most consumers feel uncertain about how to tell a good lawyer from a bad one. With LegalEASE, employees have access to the largest national network of credentialed attorneys - all at their fingertips, and the one-on-one concierge help they need to find the best attorney for their specific legal concerns.
---

Robust Offerings
LegalEASE is continually adding new resources to help employees who may be struggling legally or financially:
Education, Resources & Attorney Directory - LegalEASE now offers a dedicated website, The Legal Corner, which is a comprehensive web resource for members and non-members to get help navigating legal resources and find local attorneys.

 
Custom Legal Plans - Paid-in-Full coverage for common legal matters with new benefits being added to plans every year.

 
Financial Helpline & Coaching - Each plan member who is suffering through credit, budgeting or debt issues is entitled to 10 hours of advice and help from our Certified Financial Counselors on their credit and debt issues. A product offering accessed through The Legal Corner.

 
Identity Theft Prevention and Recovery Assistance - Members can have up to 10 telephone consultations a year with a trained Identity Theft Recovery Specialist and receive a step-by-step process to recover of their identity.  A product offering accessed through The Legal Corner.
---
Coverage for Family
We know about wanting to make the right choices for a loved one, especially when it comes to legal and financial matters. That is why LegalEASE Legal Plans offer coverage not only to the employee, but to their children, spouse, domestic partner, and in most Legal Plans, coverage for the employees' parents and spouses' parents, too. LegalEASE wants to help shield the employees family and savings from unexpected legal issues that can turn into financial disasters.
---
Easy Connection to Professionals
LegalEASE makes it so simple for a member or non-member to reach out to us for assistance. We have a 20+ person call center filled with experienced Member Specialists. Below are all the ways an employee can find the help they need when a sudden or planned life event occurs:
LAMP LAUNCHING SOON:

Online Attorney Matching Portal

​A new online option now being offered to all registered members 
An online intake process with a targeted questionaire relating to the specific Area of Law in need
Members have the choice of selecting specific traits needed from an attorney
Many preference options for attorneys focus on Diversity, Equity and Inclusion  
Members save time by getting matched with an attorney for their case quickly
Members receive direct email communications when an attorney responds to their case
Members may request a call with a dedicated Member Specialist for guidance at any step during the intake process 

Live/Phone Concierge Matching

​Excellent for members who do not know where to start
Members can speak to Member Specialist for explanations about legal, financial, life, ID theft, credit and related issues
Professional Matching and Connecting Members directly to the right attorney via proprietary matching/ compatibility technology

Self-Search Online Directory

​Members who know what they need can search for and contact professionals at their own convenience
Members can quickly and easily find provider and resource contact information
Great for those employees who want to do it at their own pace
Immediate live help if their need becomes pressing
---
Who We Help
LegalEASE is dedicated to support:
Brokers - LegalEASE has customized Legal Plans to fit your clients' needs while offering a wide range of legal services; Our Advocates help increase plan participation.

Employers - Our Legal Plans offer a low-cost way for employers to deliver a robust legal benefits package to their full-time employees.

Human Resource Managers - LegalEASE provides HR Managers with an easy-to-use process that has HR-friendly service with no administrative or set-up fees.

Employees

- For a low monthly premium, employees can save time by quickly connecting to the right attorney for their legal matter and save on costly legal fees with paid-in-full legal coverage. 

The Legal Corner is an online resource of employee information.

Attorneys

- LegalEASE provides a wide range of referrals month over month to our in-network attorneys. Become an In-Network Attorney:

Sign Up to Participate
Meet Patricia and Michael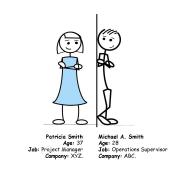 Everyone has the need for an attorney periodically throughout their lifetime. Find out why the LegalEASE Legal Plan helps the member and their family as well as their employer. 
Becoming a Member

Becoming a legal plan member has many benefits, with the biggest being peace of mind. If you are considering enrolling in one of our legal plans, click here to learn the benefits.