LegalGUARD Legal Plan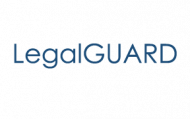 Help protect your employees by offering LegalGUARD
We all work hard to make the right choices for the people we care about, especially when it comes to legal and financial matters.
By offering the legal insurance plan*, LegalGUARD, you're helping to provide peace of mind and protection for your employees when it matters most. LegalGUARD members have access to a national network of attorneys with exceptional experience who are matched to meet specific legal needs. Members also get paid-in-full coverage on most legal matters, as well as personal guidance and coaching.
LegalGUARD by LegalEASE. The LegalGUARD Plan is an unique and flexible insurance product, protecting employees against the high cost of legal fees. These plans provide the convenience of using either in-network or out-of-network attorneys. This plan connects you to an attorney for most common personal legal matters and pays for the attorney fees.
LegalGUARD plans are customizable 
A LegalGUARD plan can be customized to fit your needs and offers a wide range of services:
Home and Residential (Buying, selling, refinance, foreclosure, and landlord/tenant)
Financial and Consumer (Debts, credit, collections, and contracts)
Auto and Traffic (Moving violations, tickets and license suspension)
Family (Divorce, adoption, child support, child custody)
Estate planning and wills (Will, living will, power of attorney)
LegalGUARD provides a valuable service 
There are a number of reasons why LegalGUARD is so attractive to employees:
Personalized and concierge assistance

Simple to set up and easy to administer or implement
Easy to understand plan design(s)
No administrative or set-up fees charged
Unique technology interfaces with organizations of all sizes
Compatible enrollment and billing systems
LegalEASE
For more than 50 years, LegalEASE has established one of the oldest and most comprehensive networks of attorneys in the legal industry. With more than 20,000 participating plan attorneys, LegalEASE specializes in matching attorneys specific to client needs, when it matters most.
*This legal plan may not be regulated as insurance in some states.
Products available in all states. Underwritten by Virginia Surety Company and affiliated companies in all states except HI, ID, KS, NH, NC, OH, SC, TX, and WY, where underwriting is not required. Identity Theft Prevention & Recovery, Financial Counseling, Budgeting, and Financial Planning benefits, among other products can be packaged with this plan.  Plans can be customized for individual employers or groups. Typically a voluntary payroll deduction benefit. Limitations and exclusions apply. Group legal plans are administered by Legal Access Plans, L.L.C, LegalEASE or The LegalEASE Group, Houston, Texas.  Please contact Legal Access Plans or LegalEASE for complete details.
Optional Identity Monitoring
Legal Access | LegalEASE offers Identity components that can be added to a legal plan.
Identity Monitoring
Identity theft affects millions of Americans each year and is one of the fastest growing crimes in the country. Protect yourself and your loved ones with industry leading identity monitoring. Identity Monitoring can help ease your worries if your personal information is ever compromised.
Identity Monitoring offers additional resources to help protect personal identity and information, as well as services to help deal with identity theft in case it happens. 
Services Include:
Credit Monitoring
You can enjoy peace of mind with proactive monitoring including:
Single or tri-bureau credit reports, scores and monitoring
Flexible levels of frequency for report generation
Credit Reports that display robust credit data
CyberAgent®
CyberAgent monitors activity on the Internet to see if personal information is being traded and/or sold online. CyberAgent searches networks, chat rooms, and websites worldwide for stolen identity credentials, finding Subscriber data regardless of nationality or location.
Full Service Identity Restoration
Full-Service Identity Restoration Services provides compromised members with a certified identity theft restoration specialist to provide full-service identity restoration. Full-Service Identity Restoration Services include:
A certified identity theft restoration specialist
Use of a specialized limited power of attorney to work on your behalf to restore the identity case, which frees you from that burden
Interactive dispute letters to creditors and agencies
Interactive dispute letters to credit bureaus
Interactive identity theft affidavit
Lost Wallet
Protection for personally identifiable information that has been compromised. Services include:
 Protection for credit cards, debit/ATM cards, checkbooks, driver's licenses, Social Security cards, insurance cards, passports, military identification cards, traveler's checks and Medicare/Medicaid identification
Support from restoration specialists in canceling and reissuing documents due to lost or stolen wallet or identity documents
$1,000,000 Identity Theft Insurance
Identity Theft Insurance will reimburse you if you are residing in the United States for certain ancillary expenses associated with restoring your identity should you become a victim of identity theft after you are properly enrolled. The policy covers eligible expenses for up to $1,000,000, with no deductible, from an A.M. Best "A-rated" carrier, subject to the terms, limits and/or exclusions of the policy. The insurance policy will reimburse you for certain reimbursable expenses in accordance with the policy's terms. You must make a claim for reimbursement in accordance with the terms and conditions of the policy, which claims procedure and other delivery requirements will be mutually agreed to by the parties and conducted in accordance with the terms of the policy and applicable state insurance law and regulations
Child Identity Monitoring
If you have dependent children, you can enjoy peace of mind with proactive monitoring of your child's identity, which includes:
CyberAgent, that scours the dark web to identify the illegal trading and selling of monitored personal information, and it alerts parents if a match to their child's information is made
Social Security Number trace, detects the existence of credit information associated with child's identity
Full-Service restoration, is available in the event of child identity theft