Legal Component of EAP Plans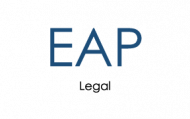 Legal Component of EAP Plans
Our EAP legal plans and benefits are constructed to be broad enough to apply to most legal issues that can arise with discounted services as well as some covered benefits. Depending upon the needs of your organization, we have a package of benefits that are right for you from basic packages to enhanced plans, a full range of financial benefits and identity theft plans, as well as customized elder law and estate planning packages.

Listed below are the most popular types of plans available:
Access Plan
Basic benefits provided through the Legal Access Infrastructure at the best price. The plan includes Intake after a warm transfer, Attorney Match, in office and telephone consultations, discounted hourly rates, and follow up. This plan can be offered on a Fee for Service or PEPM model.
Enhanced Plan

- 
The best EAP legal plan on the market today provided on the Legal Access Infrastructure includes:
Consultations up to thirty minutes with a local Plan Attorney - The purpose of the initial consultation is to help a member understand some of the issues related to the legal matter that have arisen. The attorney will explain to the member their options and may provide general advice. The consultation is also the time in which costs of the legal matter are explained.

 
Discounted Hourly Rates - If a member needs to retain or use the attorney's assistance beyond the consultation they may do so. If an hourly rate is quoted, the member will receive a 25% discount off the attorney's normal hourly rate.

 
Document Review - As part of the benefits, a local Plan Attorney can review a document six pages in entirety or less for a member. If a member has a document totaling more than six pages, they will receive 25% off the attorney's hourly rate, if an hourly rate is charged.

 
Simple Dispute Resolution - When a dispute arises with a third party, if the Plan Attorney determines that a simple letter or a phone call to a member's opposing party is likely to resolve the dispute, a member would receive this as part of their benefits at no charge for the attorney's time.

 
Wills

* 

- Members receive discounts associated with the creation of a will. If a member's needs and circumstances fit the parameters of a Simple Will by the member's state's definition, then it is covered by the benefits. If a member's needs and circumstances go beyond the parameters of a simple will, as it is defined by each state, only by the need for simple minors trust and guardianship, then the employee only pays the low co-pay of $180.00 to the provider.  If a member's needs and circumstances go beyond the parameters of a simple will with minor's trust, as it is defined by each state, then the member would receive 25% off the attorney's hourly rate, if an hourly rate is charged.

 

Financial Counseling - Members can find possible causes and solutions to their financial problems by utilizing a telephonic consultation with a financial counselor.

Debt Management Programs: Members can possibly consolidate their debt into one, lower monthly payment, while learning ways to improve their financial health.
Financial Education: Members can receive helpful educational materials related to an issue they are experiencing.
Budgeting: Members can get on track with a consultation and materials for their personal or family budget
Financial Planning: Members can receive a consultation and discounts when working with a Certified Financial Planner from the Network of providers for assistance in investments and other financial planning needs.
*

Benefit is not included in all EAP plans and is usually an extra charge.