We've Rebranded
Logo Makeover for LegalEASE!
Like most of you, we felt the necessity to break out a new look post-quarantine!
One that would reflect our growth and innovation, while balancing our 50-year legacy in the industry. We thought- what better time than now to refreshen our brand, reminding everyone how we're constantly evolving in the best interest of our members.
We've grown about 20% each year for the last 5 years. With that growth, we've added new benefits, improved services, and invested in industry-leading technology, all while maintaining the dedicated and terrific LegalEASE team you've come to love.
We hope you'll agree- the future, as well as our new logo, looks pretty awesome for LegalEASE!
The New Logo Explained
Like with everything we do, LegalEASE was intentional in creating our new company logo design. Just like our customized legal plans- cleaner, bolder, and more direct without being too simplistic, we believe the new logo will continue to help us stand out amongst our competition and reduce any confusion that could come from having multiple brands.
Looking closely at the new design, you should spot two blue L's joined together by an orange corner. The two L's represent our companies, LegalEASE and Legal Access, and the orange corner joining the two, represents our newest offering, The Legal Corner.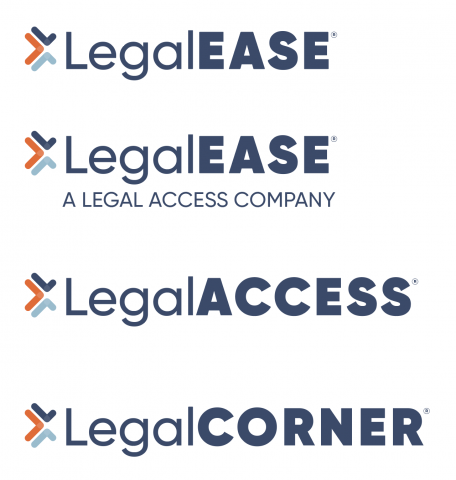 New Things Coming Soon
More than just our new pretty face, we've also got a few other things coming down the pipeline.
Here's a teaser from our CEO and President, Bob Heston, describing one of our newest initiatives:
"LegalEASE is in a terrific position to capture an enormous amount of market share in the Legal insurance market. We have a dedicated group of employees and managers who really seem to understand how to help employees who are suffering through devastating, stressful legal problems. The sky is the limit with our team.
Soon, we will be expanding our unique online capabilities as part of our DE&I program to help everyone build up the trust they need to access the legal system. Two years ago, I commissioned a research team that found that minorities, in general, experience a substantial mistrust of the legal system, lawyers and judges and they often forego their rights in court, or fail to pass on their accumulated assets to the children by failing to get a will or trust. Getting them counseling help to overcome this hesitation to protect their legal rights is a major part of LegalEASE' initiative in 2022. You will hear a lot of this shortly."